8 traditional Roman foods you must try when in Rome
8 Traditional Roman foods you must try when in Rome
Roman cuisine boasts traditional recipes that have become famous all over the world. Starting from the well-known pasta such as Amatriciana and Cacio e Pepe, up to street food specialties. If you are planning a trip to Rome, and you are wondering what food is Rome known for, we've got you covered. In this article, we'll let you discover eight traditional Roman foods that you have to taste in the Eternal City.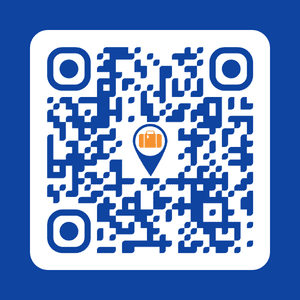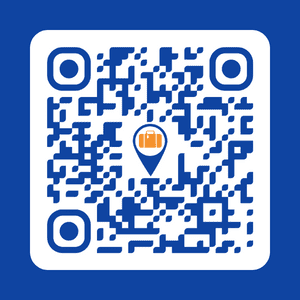 Download the Bags Parking app!
Find your closest luggage storage and leave your suitcases for as long as you need. Enjoy your journey without the weight of your baggage.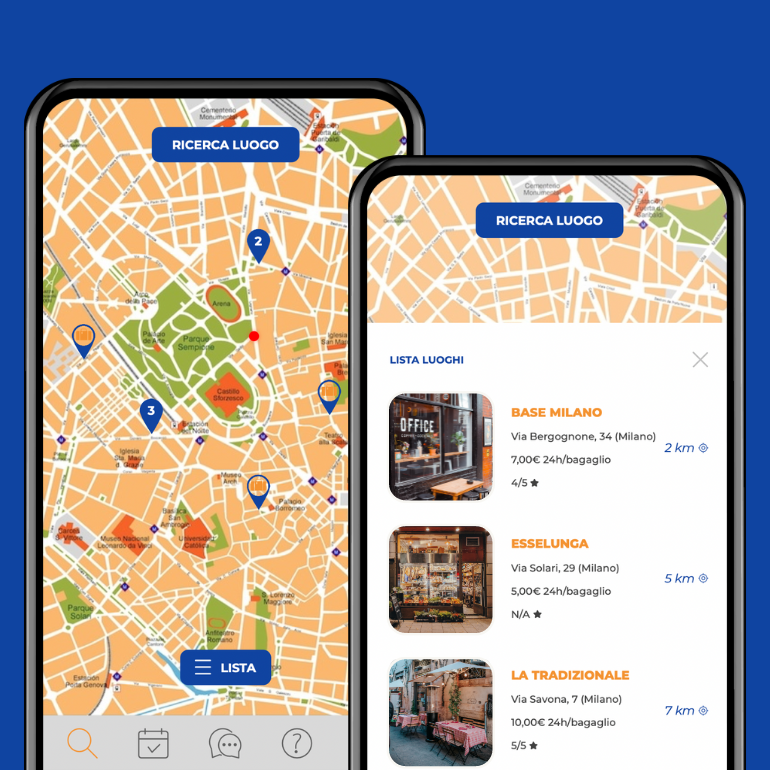 Roman food is based mainly on simple and genuine ingredients.
The traditional recipes are prepared using many products of the territory, especially the ones of peasant derivations. Initially, these dishes were meant to support people who worked in the fields all day long and needed energy. Every meal, therefore, is the result of thousands of years of history that brought to the table intense and genuine flavors.
Roman cuisine is the keeper of a precious heritage made of recipes handed down from generation to generation.

Are you ready to discover them?
The supplì is the king of Roman street food, but also an appetizer that can be found in all traditional trattorias.
The locals say that this rice croquette with meat sauce and a heart of mozzarella cheese can be considered a good one, only if once opened, they form a telephone wire string of hot cheese. That's why they are also called Telephone Supplì. 

Remember: to avoid arousing the ire of the locals, do not confuse supplì with Sicilian arancini!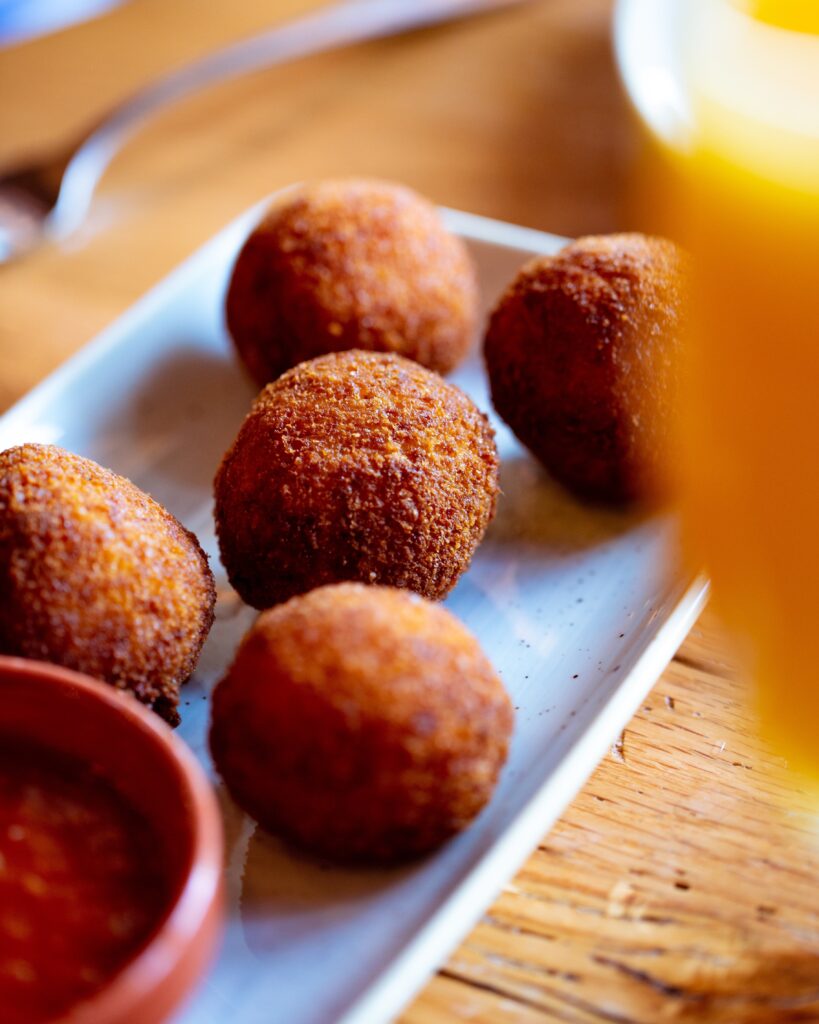 Roman-style Fried cod fillet (Baccalà fritto alla romana)
Here is another protagonist of the street food in Rome, which can also be found as an appetizer but could easily constitute a meal: Roman-style cod fillet. This is one of the recipes that come from the Jewish tradition. Once upon a time, in fact, cod was the typical appetizer on Christmas Eve. Today instead, it can be found all year long in Rome.

Generally, this dish is served with a series of seasonal vegetables also battered and fried. The custom goes back centuries when this fish was considered a poor product, so much so that it was placed in small pieces in a mixed fried batter prepared with seasonal vegetables also cut into small pieces, called Pezzetti.
Roman-Jewish Fried Artichokes (Carciofo alla Giudìa)
This classic appetizer of the Judaic-Roman tradition is one of the dishes you absolutely must try if you are want to taste the real traditional Roman food.
At the heart of this recipe is a deep-fried crispy artichoke, which turns it into real chips.
Do not make the mistake of judging them just like any other fried artichoke though! The Carciofo alla Giudìa is a dish that requires a series of attention, starting from the selection of the primary ingredient.

Curious to taste them?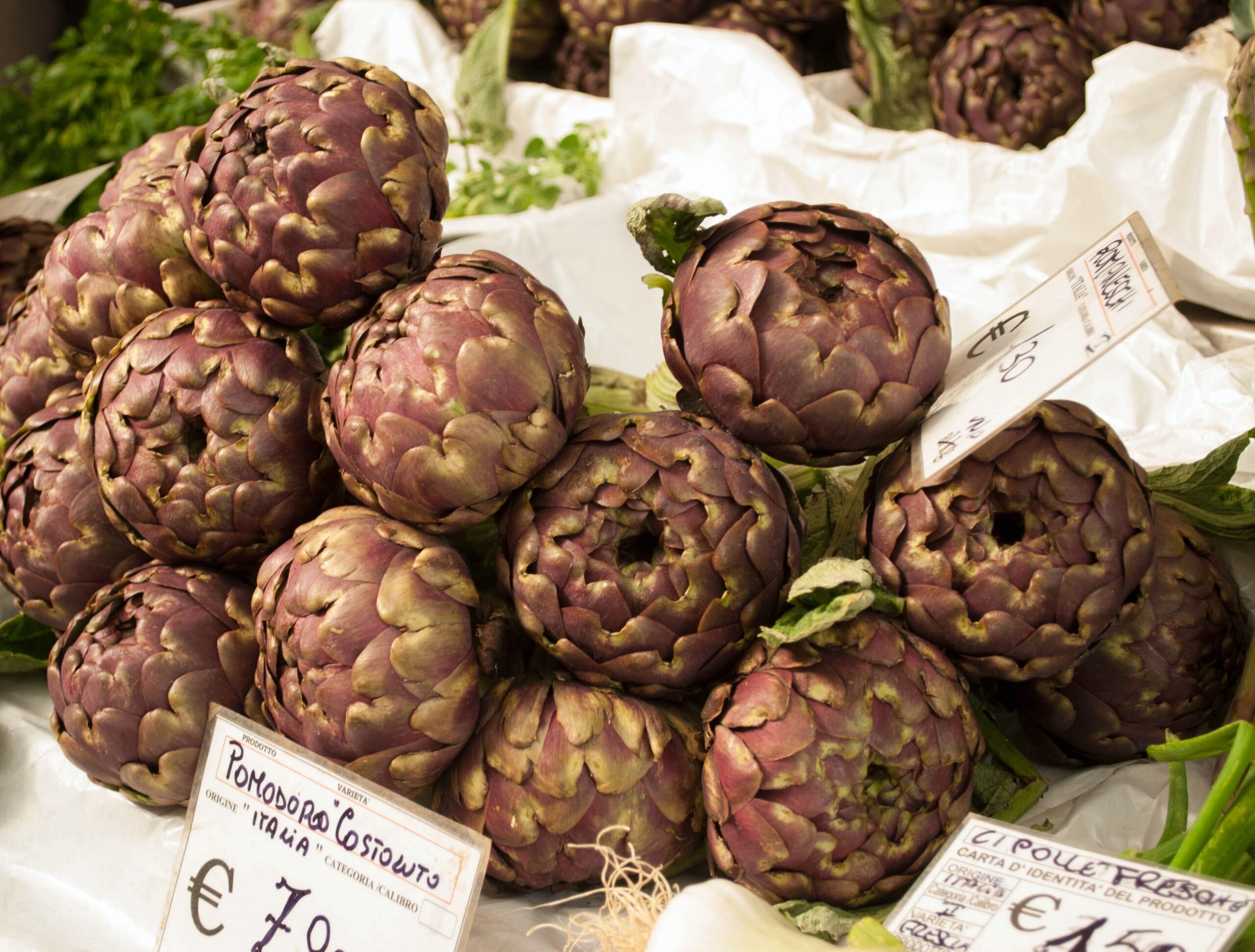 Roman Rice-Stuffed Tomatoes (Pomodori col Riso)
Roman Rice-Stuffed Tomatoes are a must of the summer season and the Roman tradition.
The origin of this recipe is very old: some people believe that they date back to the times of the ancient Romans, others attribute its authorship to Jewish-Roman cuisine.

This dish is simple and tasty. It's made with large, round tomatoes which are first emptied and then stuffed with rice cooked with oil, lemon, aromatic herbs, and the pulp taken from the tomatoes.
If you want to eat like a local, you shouldn't miss the opportunity to taste this delicacy. 
The Four Queens of Rome: Cacio e Pepe, Gricia, Amatriciana and Carbonara
It is impossible to talk about the typical Roman food without mentioning the Four Queens of Rome. Did you know that these first courses that you can find in almost every trattoria in the city are "related"? They share, in fact, most of the main ingredients.
Let's start with Cacio e Pepe, one of the most symbolic dishes of the culinary tradition of Rome. It's said that this dish was born among the pastures, when, during the transhumance, shepherds filled their saddlebags with caloric and long-life foods, including pecorino cheese, pepper, and dried spaghetti.
Do not be fooled by the few ingredients though, the preparation of this meal is not among the simplest! Our advice is to taste it in one of the many trattorias of the Eternal City, you will be amazed.
Let's move on to the next queen: If you add guanciale to the three ingredients of the Cacio e Pepe, you will obtain the Gricia or White Amatriciana. This pasta, in fact, was born when the tomato was not yet known.

The Gricia is the starting point of Carbonara and Amatriciana: by adding tomato sauce, you will have Amatriciana, whereas by adding the eggs, you will have the famous Carbonara. The creaminess, the crispy guanciale, and a nice handful of black pepper: these are the distinctive features of a pasta famous all over the world and that many try to reproduce, but only in Rome you'll find the real one!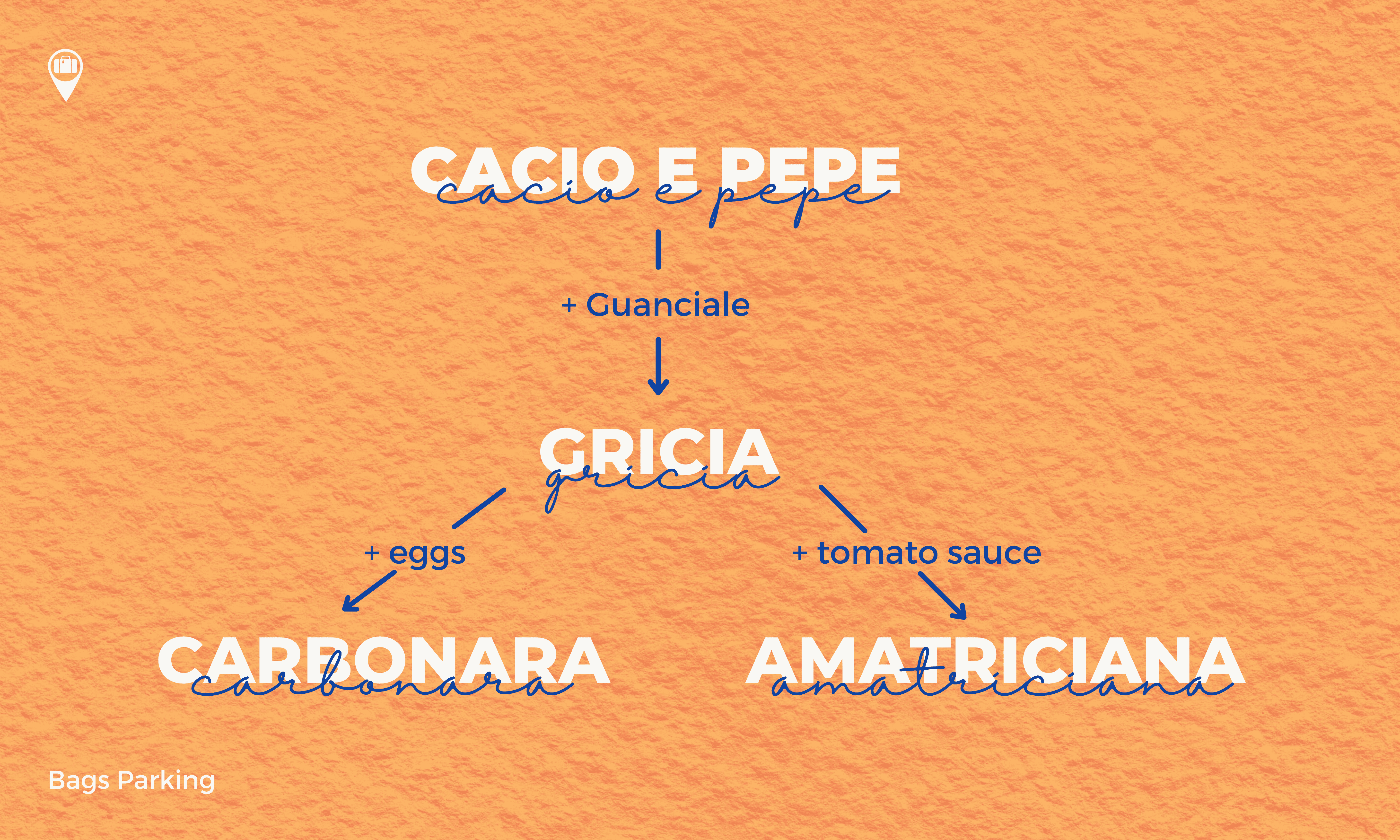 Roman-Style Gnocchi (Gnocchi alla Romana)
Although this dish contains the word gnocchi inside, do not be deceived, it has nothing to do with those little balls of potatoes and flour that are the traditional gnocchi.
This typical Roman food is prepared with semolina cooked in milk, mixed with eggs, and then gratinated with plenty of butter and Parmesan cheese. Once placed in the oven, the small discs will make a thin and crispy crust.

Today, this recipe of uncertain origins is one of the favorite first courses by the citizens of Rome. You cannot leave the Eternal City without having tasted them first!
Like all the other dishes we have talked about so far, Pandorato is also part of the dishes of the poor tradition. This dish was in fact born after World War II to avoid throwing away the bread of the day before.

To prepare Pandorato, you need to soften stale bread in milk, dip it in eggs and fry it in lard. With just a few elements, a hearty and tasty meal was made. Over the years this recipe has evolved, and today it's easy to find a stuffed variant: between the two slices of bread are placed slices of bacon and prosciutto or mozzarella and sardines.
Dulcis in fundo, here's the most loved breakfast by the inhabitants of the Eternal City: the Maritozzo.
Even if this pastry comes from an ancient recipe made of simple ingredients, it can delight everyone's palate. The history of Maritozzo dates back to Roman times, in the form of a bun sweetened by honey and raisins, a hearty meal made by the wives for their husbands. In more recent times it has become the only sin of gluttony that one could indulge in during the Lenten season.

This pastry has undergone many variations during history: while at the beginning they were commonly enriched with pine nuts, raisins, and candied orange, today they can be found in many different versions. From the most classic one with fresh cream to the Lenten one with raisins and pine nuts, or stuffed with salty ingredients.

Are you ready to have breakfast like a local?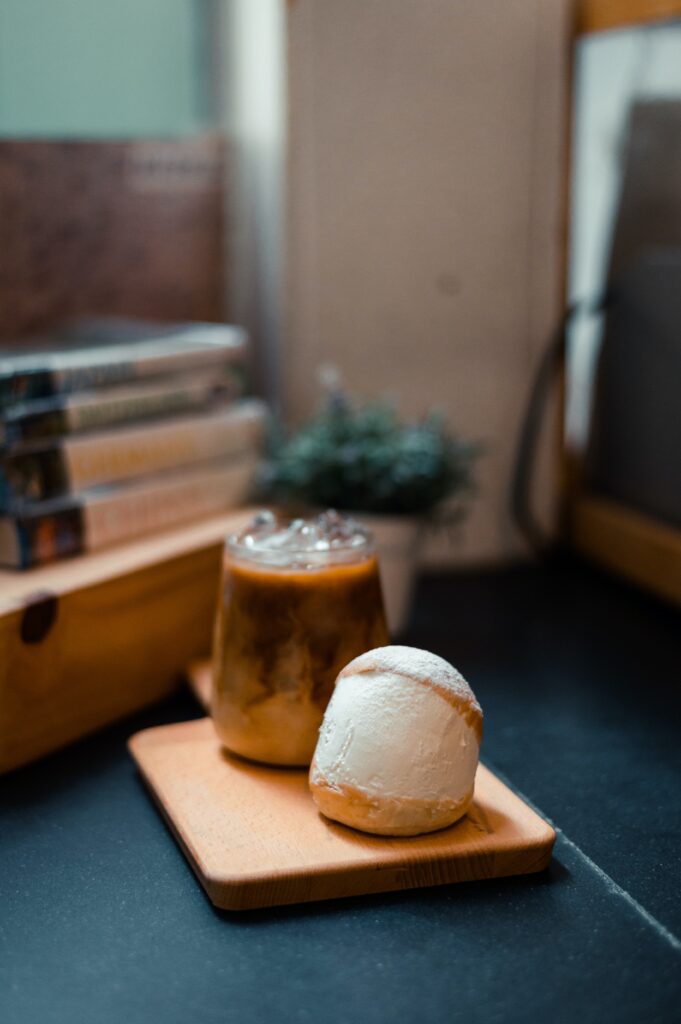 In Rome there are many foods to eat, and many more sights to see. Don't let your luggage stop you from enjoying every moment of your vacation in the Eternal City! Download our app to find your closest luggage storage and leave your suitcases for as long as you need.
Don't forget to read the article we wrote to help you find our luggage storage in Rome (and some hidden gems that maybe you didn't include in your itinerary).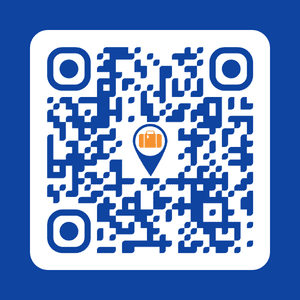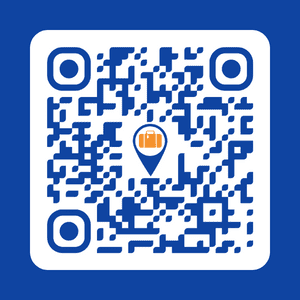 Download the Bags Parking app!
Find your closest luggage storage and leave your suitcases for as long as you need. Enjoy your journey without the weight of your baggage.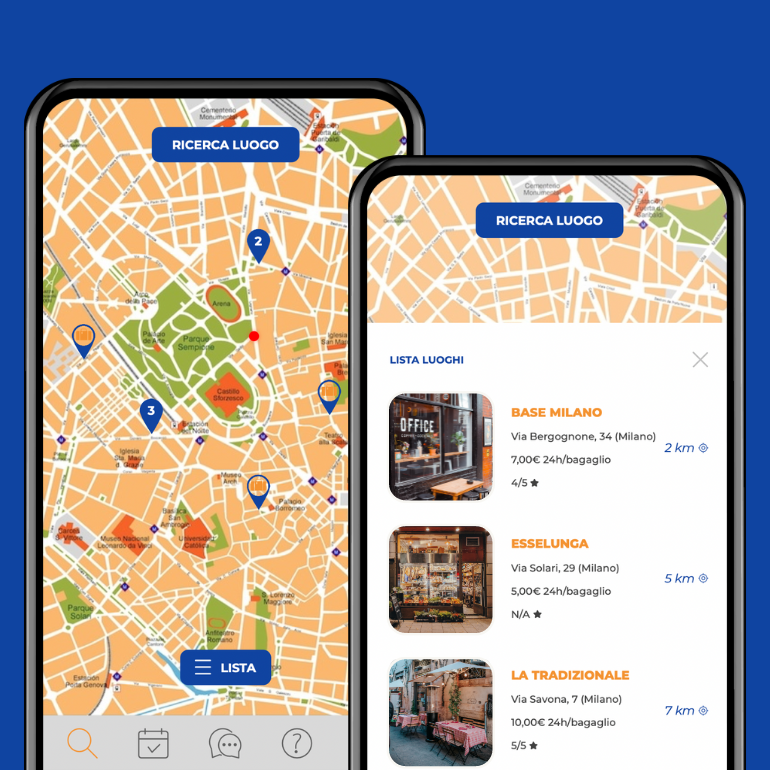 If you liked this article, share it with your friends and follow us on our social!
Share it with your friends!
Share it with your friends
You might also be interested in:
You might also be interested in: